Eat More Protein For Hair Growth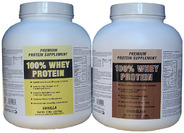 Hair is mostly composed of the protein keratin. The reason this
information is important is, because it means that a diet low in protein
may cause your hair to thin or even slow down your hair's growth.
While a diet containing a large enough amount of protein will improve
your hair's growth rate.
Sufficient amounts of protein are found in foods like fish, eggs, beans
and yogurt. Soy protein has also been found to be helpful for hair
growth. Soy has been found to not only strengthen hair but also cause
it to grow. Tofu is a good source for soy. Try adding protein powder to your diet. Make delicious shakes and help your hair grow and increase health benefits!!
HHJ
Shi-Naturals Website
Peppermint Stimulating Deep Conditioner -16 oz
Peppermint Stimulating Shampoo - 8 oz
Coconut Creme Shampoo - 8 oz
Coconut Creme Deep Conditioner - 16 oz
This creamy coconut conditioner coats your strands in moisture and strengthens with coc